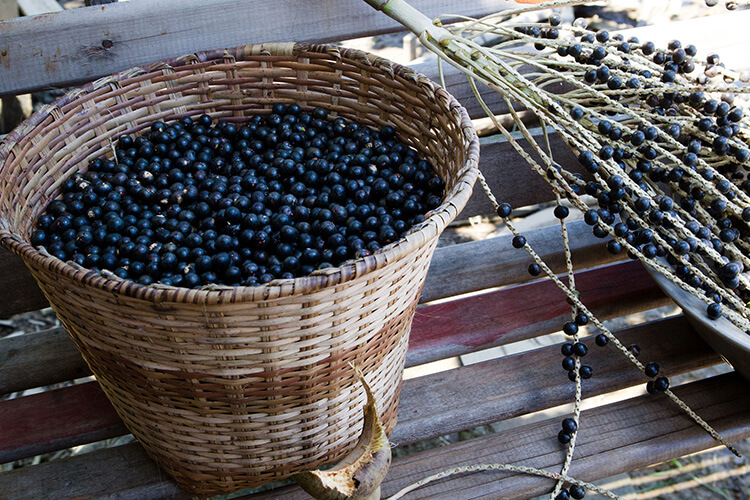 Acai is pronounced as "ah-sigh-hee". Acai berries have numerous benefits. These delicious berries have also become a popular superfood and great add-on to your smoothies and smoothie bowls. They're also beneficial for weight loss and contain minimal sugar. Acai berries are also high in iron, vitamin A, calcium and fiber. They're also rich anti-oxidants. They help with arthritis, obesity, erectile dysfunctions, neurological disorders, inflammation and allergies. Acai berries are most probably one of the healthiest berries in the world.
What Are Acai Berries and Where Do They Come From?
Acai are a reddish-purple like fruit, which are around an inch long. They are native to South America and they're derived from the acai palm tree.
The Health Benefits of Acai Berries and How They Work As A Beauty Product
1. Skin Care:
Acai oil is actually used in a couple of cosmetics and beauty products. This is due to their richness in anti-oxidants. They have anti-aging properties. Some shampoos and conditioners also contain acai berries. They revive your skin and heal damaged cells. They also rich in vitamin A, B, C and E. They're also great for treating acne. Acai berries also keep your skin hydrated and great news ladies, they also keep the lips soft!
2. Immune Booster:
Berries are immune booster because of their anti-oxidant properties. They also prevent cancerous cells from forming and progressing into cancer. They're also great immune booster because they contain vitamin C.
3. Energy Boosters:
The great news about acai berries is they're great energy boosters to help you get through the day and they help you sleep better at night! What makes them great energy providers is due to their richness in iron, Omegas 3, 6 and 9. At night it helps with the blood circulation, by doing this, it helps with improving the sleep.
4. Digestive Health:
Acai berries are great for digestion. This makes them the perfect ingredient to add to your breakfast. They help with both diarrhea and constipation. Also, if you're planning to detox and cleanse, then you might want to add these berries to your diet.
Acai Supplements
Acai supplements are considered a superfood and they're doing incredibly well on the market. There's a variety of different acai powder and capsule supplements that you can purchase online from stores like Amazon. Acai powders are also a popular ingredient in acai bowls. Acai supplements still consist of the very same nutrients that the unprocessed berries have. During the process of the acai supplements, the berries are usually dehydrated and then left to freeze before they turned into powder.
Acai Berries Nutrition Facts
Acai Berries Nutritional value per 100 g (3.5 oz)
Energy
70.0 kcal (293 kJ)
Carbohydrates
4 g
1%
— Dietary fiber
2 g
8%
— Sugars
2 g
Protein
1 g
2%
Fat
5 g
8%
— Saturated
1.5 g
8%
— Trans
0.0 g
— Monounsaturated
–
— Polyunsaturated
–
omega‑3
–
omega‑6
–
Vitamins
— Vitamin A
750 IU
15%
— Vitamin B1 (Thiamine)
0.0
— Vitamin B2 (Riboflavin)
0.0
— Vitamin B3 (Niacin)
0.0
— Vitamin B6
0.0
— Vitamin B9 (Folate)
0.0
— Vitamin B12
0.0
— Vitamin C
0.0
— Vitamin D
0.0
— Vitamin E
0.0
— Vitamin K
0.0
| | | |
| --- | --- | --- |
| Minerals | | |
| — Calcium | 20 mg | 2% |
| — Iron | 0.0 | |
| — Magnesium | 0.0 | |
| — Manganese | 0.0 | |
| — Phosphorus | 0.0 | |
| — Potassium | 0.0 | |
| — Sodium | 10 mg | 0.5% |
| — Zinc | 0.0 | |
| — Copper | 0.0 | |
| — Selenium | 0.0 | |
Data from NutritionData
Acai Berries vs. Blueberries vs. Goji Berries
All three berries have similar health benefits. They are rich anti-oxidants. However, blueberries are the winners. They contain a higher level of anti-oxidants. Blueberries are also less costly than acai berries. Goji berries are also excellent immune boosters and help with fighting off cancerous cells, but when it comes to weight loss, acai berries are definitely the winners.
Thinking of Growing Acai Berries?
It's totally possible. You can purchase fresh acai palm trees and when they're clean, soak them into a container for about 24 hours before planting them. You can find full instructions here: how to grow acai fruit.
S. M. V.
Photos: Ministério do Desenvolvimento Social e Agrário Brasil (CC)