Honeycombs are made of beeswax and produced by honeybees in their hives. The hexagonal-shaped structures of the honeycomb are ideal for storing the rawest and purest form of honey. The wax used in constructing honeycombs is made up of long-chain fatty acids and possess tremendous health benefits as well as nutritional values.
These are the benefits of eating raw honeycomb
Protection of the liver – Honeycombs contains antioxidants that protect the liver. When a study was conducted to find out how active beeswax alcohol is when consumed by people with fatty liver, it was observed that honeycombs helped to improve the symptoms of fatty liver and normalize liver function.
Glucose metabolism – The body relies heavily on glucose for energy which makes it vital for sound health. The waxy alcohols present in honeycombs promote glucose metabolism and also help to bring down insulin levels. They also reduce the markers for insulin resistance since the latter can lead to type 2 diabetes and other related health issues.
Good cholesterol – The fatty alcohols found in honeycombs help in lowering bad cholesterol significantly and raising the amounts of good cholesterol in the body.
You can eat raw and natural honeycomb in several ways each of which is outlined below: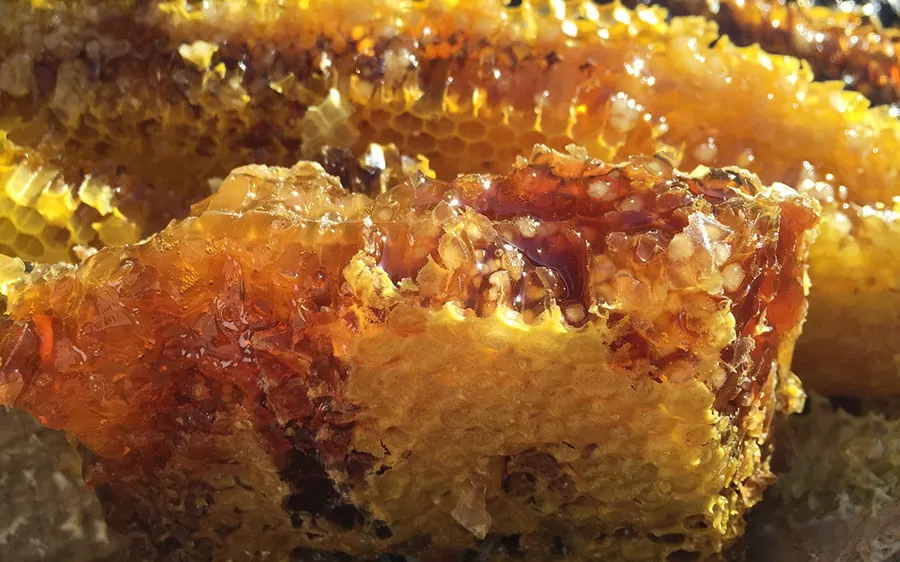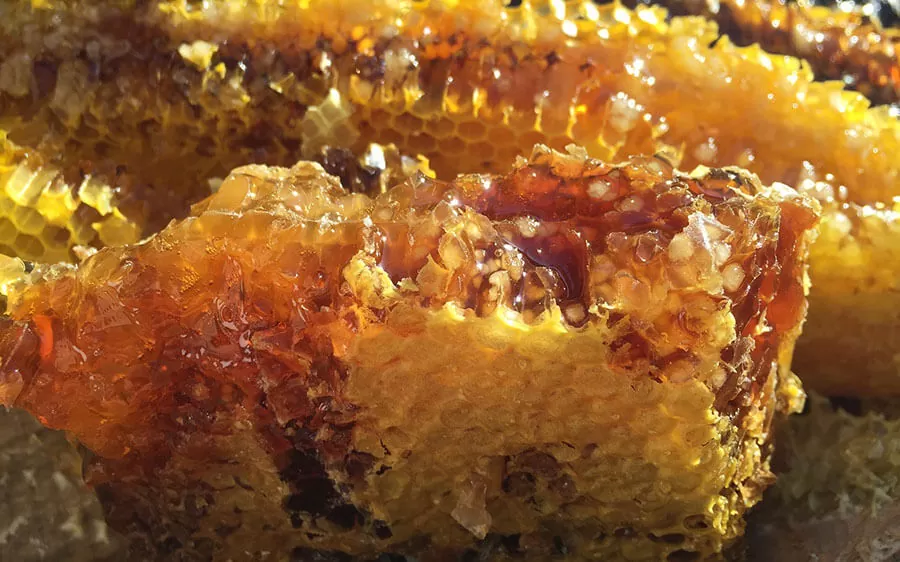 Honeycombs are natural products, and you can eat them using your fingers. Children and adults alike always enjoy licking honey that oozes from their fingers.
You can eat raw honey by serving it up with seasonal fruits on a platter. You can even consume this delicious natural product with homemade, organic or gourmet cheeses.
You can also eat raw honey by merely spreading it on an English muffin, fresh bread or warm buttered toast.
Simply bite in the honeycomb and enjoy chewing it, just like a chewing gum. You can swallow it or simply spit out what stays in our mouth at the end.
Variety, they say, is the spice of life. There is nothing wrong with topping your fresh salad with several chunks of raw honeycomb along with goat's cheese.
You can also stir raw honeycomb into vanilla ice-cream as it makes a tasty dessert.
Breakfast is considered the most important meal of the day, and you can liven it up by stirring chopped up raw honeycombs into Greek yogurt and blend them.
Eating fresh, mashed honeycomb with runny brie, and a baguette is also another delicacy you should try.
A lot of people make the mistake of storing raw honeycomb in the refrigerator. But the best way to preserve the taste, as well as its antibiotic properties, is to store it at room temperature. Honeycomb is nearly always one hundred percent edible, though it depends on how long you store it.
In conclusion, if you were averse to eating raw and natural honey, the benefits outlined above, as well as the numerous suggestions about how you can enjoy this nutrient-rich gift of nature, should be more than enough to win you over. You can – and indeed, you should – enjoy the health-giving goodness of raw honeycomb at any time it pleases your fancy.